Who's that Girl…… Daphne Guinness


 The Honourable Daphne Suzannah Diana Joan Guinness (born 9 November 1967) is an artist of Irish, English, and French descent and an heiress of the Guinness family. Daphne Guinness is Diana Mitford's granddaughter
Prominent Family members
Brewing line
Arthur Guinness (1725-1803), founder of the Guinness brewery in 1759
Benjamin Guinness (1798-1868)
Arthur Guinness, 1st Baron Ardilaun (1840-1915), created Baron Ardilaun in 1880
Kenelm Lee Guinness (1887-1937), racing driver and spark plug manufacturer
Edward Guinness, 1st Earl of Iveagh (1847-1927)
Rupert Guinness, 2nd Earl of Iveagh (1874-1967)
Benjamin Guinness, 3rd Earl of Iveagh (1937-1992)
Arthur Guinness, 4th Earl of Iveagh (born 1969)
Gwendolen Guinness, Countess of Iveagh
Caroline Blackwood (1931-1996)
Garech Browne (born 1939)
Paul Channon (1935-2007)
Sheridan Hamilton-Temple-Blackwood, 5th Marquess of Dufferin and Ava (1938-1988)

Lords Moyne
Walter Edward Guinness, 1st Baron Moyne (1880-1944)
Bryan Guinness, 2nd Baron Moyne (1905-1992)
Jonathan Guinness, 3rd Baron Moyne (born 1930)
Desmond Guinness (born 1931)
Constantine Phipps, 5th Marquess of Normanby (born 1954)
Daphne Guinness (born 1967)
Jasmine Guinness (born 1976)

Banking line
Thomas "Loel" Guinness (1906-1988)
Gloria Guinness (1912-1980)
Dolores Guinness (born 1936)
Sabrina Guinness (born 1955)
Loel Patrick Guinness (born 1957)
Victoria Niarchos (born 1960)
Religious and Political Line
Henry Grattan Guinness (1835 "1910)
Sir Arthur Guinness (1846-1913), Speaker of the New Zealand House of Representatives
Henry Guinness (1858 "1945), Irish Senator 1922 "1934
William Plunket, 5th Baron Plunket (1864-1920)
Os Guinness (born 1941)
Frank V. Guinness, NZ Politician
Daphne was named to the International Best Dressed List Hall of Fame in 1994
.
Guinness is the daughter of Jonathan Guinness, 3rd Baron Moyne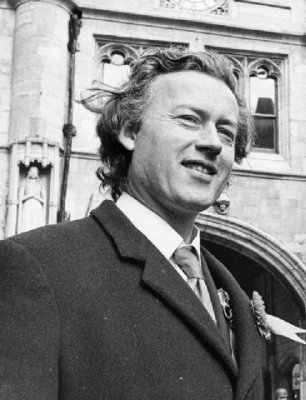 and his second wife, Suzanne Lisney (d. 2005 of lung cancer).
In the mid-1980s, she lived in New York City with her sister Catherine Guinness,
 son of the Greek shipping billionaire Stavros Niarchos
, in 1987 at the age of 19, but divorced in 1999 with a reported settlement of about £20 million.
Guinness lives in London and Manhattan
, and has three children, following her marriage to Spyros Niarchos:
Nicolas Stavros Niarchos, or Nick Niarchos (b. 1989).
Alexis Spyros Niarchos (b. 1991).
Ines Niarchos (b. 1995).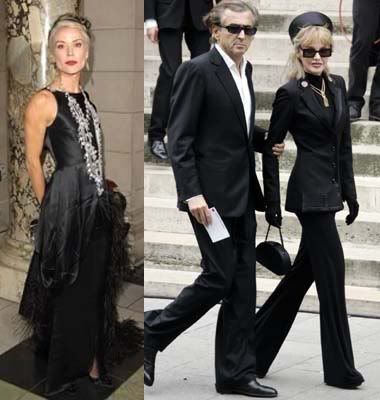 has become something of an open secret known and acknowledged by most American society columnists since 2008. On 13 July 2010, Daphne Guinness confirmed the whole story in UK press. In the 2011 February issue of the US Harper's Bazaar, her friend, the fashion writer Derek Blasberg, quoted her description of him: "He is quite obviously the love of my life"
On 8 December 2009, she appeared in Kid Cudi's music video, Pursuit of Happiness
Guinness is prominent in the fashion world as a journalist and collector of haute couture.

 She has an interest in the use of armour in fashion. 
My weird obsession with armour might have come from the Surrealists. I have been making a metal arm as part of a four-year project. It's jewellery but more a work of art. It's made out of silver chain mail with a piece over the hand " perhaps I will wear it to the V&A gala! I've been trying to make a pair of robot legs-style leggings for years, so when I saw the gold metal-look trousers by Balen-ciaga I thought they were so extraordinary that I really wanted them. Usually, however, I hate the concept of "must-haves". Once something is a must-have, I want to put it in the bin. I know that sounds grand and horrid, but I don't want anyone to tell me I need to have anything. I'm not very good at It bags, either. I've had the same bag for about five years and I can't be bothered to get another one. So many bags are really heavy  " especially those Chloe Paddington things.
The thing about haute couture, unlike preta -porter clothing, is that you actually have to engage with the process and repeatedly go for fittings. Couture clothes last so much longer because so much work goes into them. Having said that, some of the dresses that will be at the V&A exhibition are so delicate that they have had to be kept at room temperature and carefully restored or preserved.
I still buy couture,
but very little and very carefully, because it's so expensive. The last piece was a small coat-dress from Chanel,
which I've worn about 50 times already. It was a model and I can't remember how much it was " it's funny some of the things that you would think are really expensive are really much cheaper, and then you'll see the price skyrocket for clothes that are essentially little pieces of fabric stuck together. It's a very mathematical, artistic, ancient tradition. I would never dispose of anything that I've had made, it has my personal stamp on it.
Whose style do I admire? We are all inspired by the people we grew up around, and my mother and my grandmother both dressed extremely elegantly. One of the problems with modern fashion is that people change all the time. There are very few people who keep their look through thick and thin " the Duchess of Windsor did. Years ago women had to make things last and clothes weren't disposable " they couldn't just go out and buy another thing.
When you walk about in Paris, you just see a lot of people who are incredibly well-dressed " for example, Loulou de la Falaise dresses beautifully. I think you do have a more fun life if you wear beautiful clothes. There is a certain joy in it; dressing well is an art and it shows respect to be neatly turned out.
I miss darling Izzy (Isabella Blow)
 so, so much. She had a strong idea of the historical context of clothes, she had a sort of joy as well and enthusiasm, and humour about fashion. You know a lot of people just thought it's Izzy in a hati, but she was more than that. She was highly educated and an incredible perfectionist. She was just an extraordinary human being."
. She was a model in Naomi Campbell's Fashion for Relief runway show for the White Ribbon Alliance to raise funds for mothers in Haiti in 2010.

In September 2010, NARS Cosmetics will launch a new collection dedicated to her